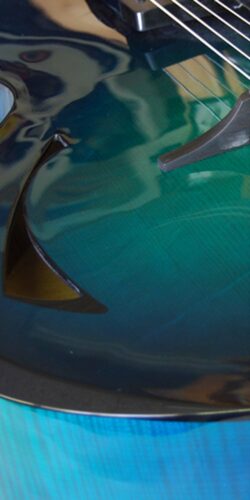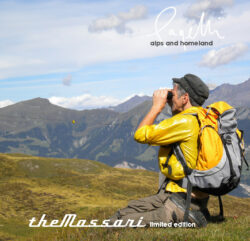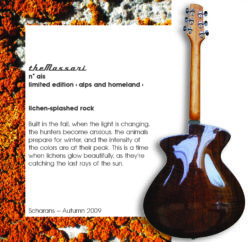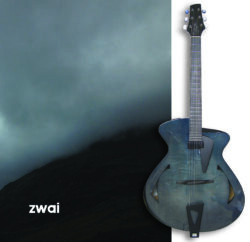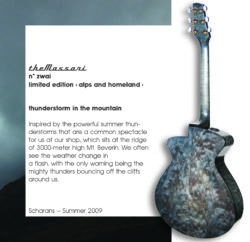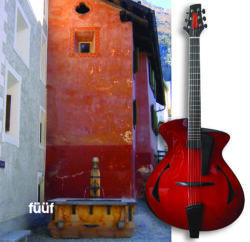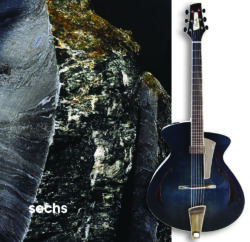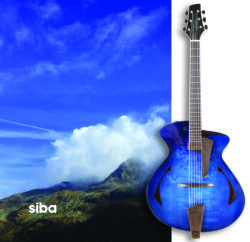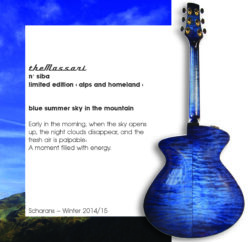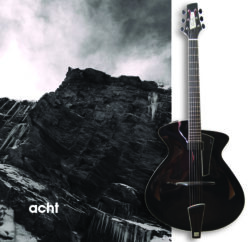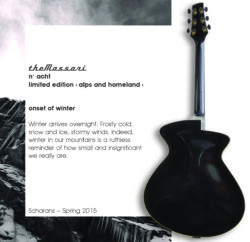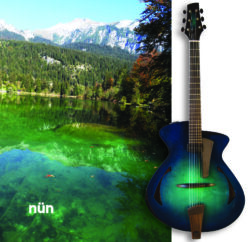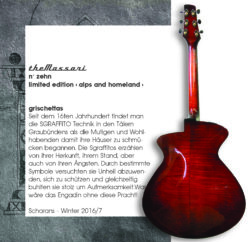 Our home in the Swiss Alps is one of our greatest sources of inspiration.
Our creativity is fueled by the mountains, the water, the clear air, the forests, the customs, the materials, the people, the language, the food, the colors, and countless other things that surround us every day.
As such, we see our limited Alps and Homeland edition of 20 special MASSARI archtops as a tribute to this environment. As our top-of-the-line archtop, the MASSARI model represents everything that Claudio has learned in over 40 years of building instruments.
Each of the guitars will have unique features, all based on and inspired by the common theme of Alps and Homeland Examples include colours that represent the region, traditional motifs, use of materials sourced in the Alps, and much more.
We've already built several of the guitars, some of which are already in the hands of their happy owners.
Number 1 | ais: LICHEN-SPLASHED ROCK
Number 2 | zwai: THUNDERSTORM IN THE MOUNTAIN
Number 3 | drü: LA STRADA ALTA
Number 4 | viar: LEAVING NATURE TO ITSELF
Number 5 | füüf: HERITAGE RED OF THE ENGADIN
Number 7 | siba: BLUE SUMMER SKY IN THE MOUNTIAN
Number 8 | acht: ONSET OF WINTER
Number 9 | nün: CRESTA MOUNTAIN LAKE
Numbr 10 | zehn: GRISCHETTAS
Don't miss the opportunity to own one of these wonderful one-of-a-kind and highly collectable guitars.
OUR LIMITED EDITIONS
Do you appreciate an instrument that is so guaranteed not to exist a second time?
That pushes the boundaries in guitar making or even dissolves them?
This also inspires as an object?
That stands out even from the most exquisite collection?
Then they are here in the right department!
Under LIMITED EDITION, we create instruments that are usually not made on behalf of customers, but are always built when we find time and muse for our own and unusual ideas. These are instruments where we let everything run free and want to surprise ourselves with them.